Day 1: Los Angeles Design Crawl
Details of Day 1: Los Angeles Design Crawl!!!
We, Designers Collective (aka Tina Dhillon and Brooke Hatfield) just completed a 10 woman design tour, that showcased the best of architecture, urbanism and interior design in Los Angeles.  Conceived during the recent ALT Summit Bloggers Conference in Salt Lake City, this tour took weeks of planning and scouting to ensure smooth execution.
The first step was finding the ideal 'Melrose-Place-style' hotel replete with sunny courtyard pool.  This was  to be our base of operations.  The Best Western in West Hollywood proved to be the perfect mix of location, elegant, comfortable rooms and poolside patios that we were seeking.
By April we had found, synchronized and booked all the best restaurants, cafes, shops and museums that would comprise our tours.  We included some urban experiences like a walk through the La Cienega Design District to peruse the posh design shops and inspiring fashion houses.  The sheer plenitude and variety of streetscape architecture paired with amazing food makes this a delightful place to explore.
We did our last pre-tour reconnaissance one day ahead to finalize all the details.  Including getting our swag bags together for our 'design crawlers'.
Once our intrepid explorers had arrived we whisked them off, by taxi, for their first flush of LA lifestyle, shopping and touring.  Los Angeles did not disappoint; offering a stunning selection of chic shops, elegant streetscapes and urban panache right out of the gate.  We visited the beautiful Isabel Marant store, the newly opened 'The Row', (owned by Mary Kate and Ashley Olson) in Neil Diamond's former residence, Vince, Alice and Olivia and many other beautifully designed shops. We had done our homework well!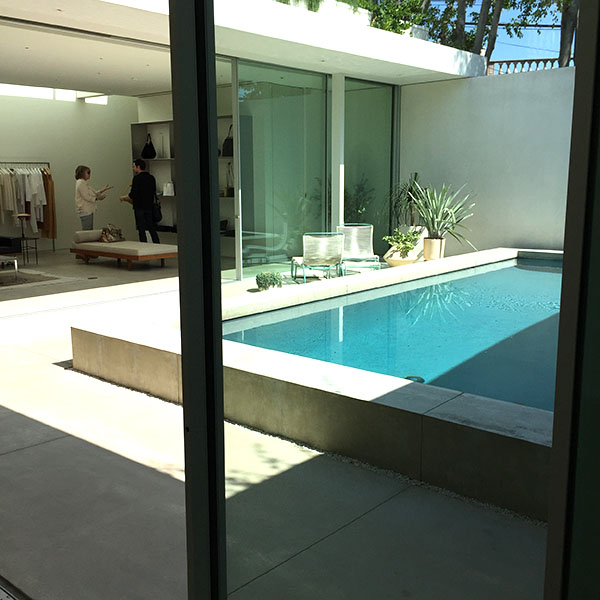 After subduing Roberson Blvd, Melrose Place and La Cienega we retreated back to base camp for drinks and appies by the pool.  A great chance to unwind, talk about the day and just hang out with the crew.  After this welcome pool break and a bit of down time we trundled off for a candlelit dinner amidst the charming, chintz cottage surroundings of The Ivy.
This hot spot was hopping! Our table wasn't quite ready for us so our host invited us in for Champagne while we waited. Then we headed outside to our table on the terrace.
It was a beautiful warm night and it was, accidentally on purpose, a delightful end to our first LA Design Day.
To see photos of our Design Crawls follow us on Instragram at @designcrawls or https://instagram.com/designcrawls