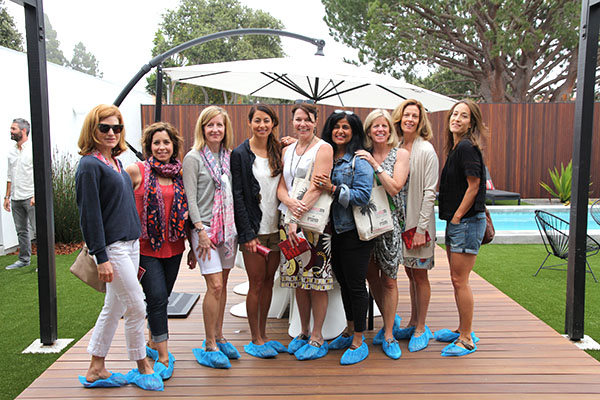 Day 3 of Designers Collective's LA Design Crawl
Day 3 of our Designers Collective's LA Design Crawl was a big day! So we don't overload you, we have decided to break up day 3 over a few different blog posts.
We started Day 3 of our LA Design Crawl with the limo picking us up and taking us to South Bay to start the Dwell Home Tour.
Dwell is a design/architectural magazine that hosts home tours in various cities. It's very generous of the homeowners to open up their homes to a bunch of strangers. Everyone wears booties to protect the floors of the homes.
The houses ranged in sizes from a rambling rancher to smaller urban lots.  All the designs were contemporary with a lot of wood and white. One house was not a rebuild but a renovation of a 1966 mid-century by iconic Modernist architect Pierre Koenig.
image from Dwell.com
In 2013, Architect Robert Sweet (below), did a thoughtful and tasteful renovation that is truly stunning.
The open air living between outside and in was very apparent in this house as the lines between the outdoor spaces and indoor spaces were seamless.
The other houses on the tour were a Manhattan Beach renovation also by Sweet, a new build modern house also in Manhattan Beach, a new build opposite the Strand, and a renovation and addition of a bungalow in Manhattan Beach. All the homes were light filled and airy and showed beautiful workmanship and design using updated materials in innovative ways. We will feature these houses in the near future on our blog.
After the home tours some people were ready for some pool time and headed back for a glass of wine by the pool. The sun was shining and warm and seemed like an inviting option.
The others continued on to Watts Towers, which are sculptures in the Watts district of LA by artist/tile setter Simon Rodia an Italian immigrant who spend his life devoted to building these 17 sculptures. They are made of rebar and broken plates and glass, an art known as Pique Assiette and are reminiscent of Architect Antoni Gaudi's architecture in Barcelona. They are amazing structures, and what is more interesting is that few people in LA have taken the time to go see them in Watts.
We then headed back to the hotel and had a Mexican Fiesta by the pool. We brought out the Mexican blankets and had Mexican food catered to poolside which was just the ticket after touring (or design crawling) all day!
After refueling, we all got into our theatre attire and piled into cabs to make our way to The Pantages Theatre for the musical 'Motown The Musical'.
Later we will tell you all about the Art Deco marvels, the Pantages Theatre and the Sunset Towers Hotel.
We'd love your thoughts on our LA Design Crawl!
Till next time, Brooke.
All photos, unless noted, are by Los Angeles/Canadian Filmmaker and Photographer Paisley Smith