Placemaking For Your Backyard BBQs
Placemaking For Your Backyard BBQs
So often our backyard BBQ placement is an afterthought. We put money and energy into designing our interior space and even our garden, but summer comes along and we then remember the BBQ. So what can you do to make your outdoor BBQ more of a feature and a more useful space than just putting a freestanding BBQ on your back deck or patio?
This image below is a perfect example of a very thought out space EXCEPT it is apparent the BBQ was an afterthought. The neighbours seemed to have the same issue!!
When we were in LA this past May we saw a few examples of afterthought BBQs but we also saw many good examples of how to incorporate a BBQ to really use your space well.  I love this example below of a house on the Dwell Design Tour. The yard is not large and they still managed to integrate the BBQ.
You could have the BBQ built in, which of course is always a sleek and beautiful option, but it can be costly. How about just keeping it simple and building a counter next to your BBQ? This will give you the look of an integrated BBQ, but you are using a regular freestanding unit like the example below.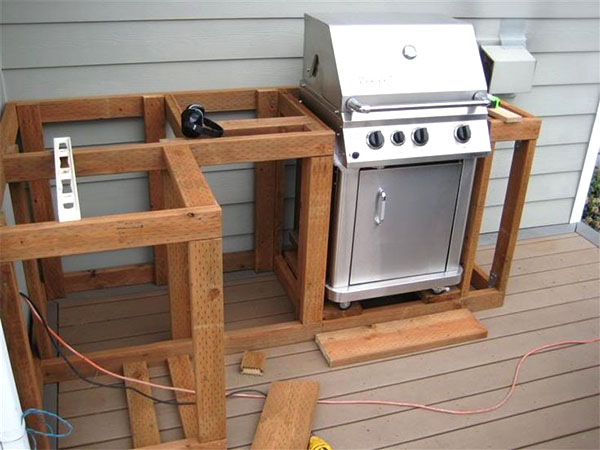 Another even more economical option would be to use a ready made counter and place it next to the BBQ like the example below.
When you are planning your outdoor space it is important to take a few things into consideration. First and foremost, imagine yourself in the space and how you will use it. Visualize having a BBQ and entertaining and how you move and work in this space. Is the BBQ close to the kitchen so you can have cooking items readily accessible? Do you have room to move between the table and seating area and the BBQ? Is the BBQ protected by an overhang? Do you need storage outdoors? A counter? There are many questions so ask yourself before planning this outdoor space. As with any space, spending the time planning will pay off in the end.
What about your deck/patio flooring? How will it hold up to patio/BBQ messes? Is it easy to clean and keep looking fresh? Remember that some tile may become slippery when wet and may not hold up so well to grease stains.   A tile that has some visual and tactile texture will help. Also keep in mind whether or not you need a smooth surface. Paving stones look beautiful BUT can be hazardous to small children running around or to older people who may not see the uneven ground. Overall, you probably want to steer clear of surfaces that are either too sleek OR too rugged.
Where to place your BBQ? You want to make sure it is not so close to the home entryway that you get smoke in the house but also not so far away that getting to the kitchen is an issue. And also be aware that a BBQ does give off smoke and you won't want it wafting into your entertaining area. Location is key.
Do you have a place to set and store your outdoor cooking items? If you look back at the images we have above of the "afterthought" BBQs you will see there is no place to put platters or cooking utensils etc. The BBQ is so freestanding that it becomes a hindrance and inconvenience to cook outside as there is just nowhere to set items. Having a counter next to the BBQ will help this tremendously. Choose an easy to clean and waterproof countertop for longevity. Concrete counters for example, are easy to maintain and durable. If there are cabinets below ensure they also will hold up to the weather.
We also want to point out another design element that can get overlooked and that is lighting! When you are planning your outdoor BBQ-ing space remember to ensure you have adequate lighting. It's pretty hard to tell if the steaks are done if you don't have enough light!! If the BBQ-ing station is along an exterior wall of the house it is easier to have a light above. If the station is not against the house then you will need to plan ahead for adequate lighting.
These are just a few things to keep in mind when thinking of your outdoor BBQ space. Let us know if you have any other great suggestions or ideas of what works for you.