Roman Blinds Anyone?
Roman Blinds Anyone?
As we are continuing our discussion about window coverings we really can't miss chatting about the roman blind. Roman blinds have been around for many years in many incarnations. They can be timeless if fabric and style are chosen well.
What is a roman blind? Essentially, it is a fabric shade that can be raised or lowered with a pulley system. Roman blinds can be made out of many different fabrics-even sheers- so there really is a look for every style of home or application.
Fun fact: Did you know these are said to have originated in Rome for the well to do? They were designed to shield the wealthy spectators at the outdoor amphitheaters from the sun. There was a system of pulleys and/or ropes designed to allow the blind to be raised or lowered depending on the height of the sun.
Roman shades are quite difficult to make so can be a more costly window treatment. Sometimes an error in measuring or an error in construction can mean the whole shade has to be remade.
Sometimes curtains just do not work for a space such as in a kitchen or bathroom. Most kitchens and bathrooms do not have full height windows but instead have smaller windows and/or surrounded by cabinetry.  Curtains would not then be ideal. As well, kitchens and bathrooms are hard working spaces where there is more moisture and spills that could be absorbed by full fabric curtains. But kitchens and bathrooms are harder to bring softness and fabric into and so sometimes we want just a bit of fabric for colour and some softness so a roman blind could be perfect. Also, for curtains, you need some wall space beside the frame of the window for the stack of the curtain. If you do not have this, a roman is a great option.
Roman shades offer a softness to a window that wood blinds or roller shades cannot. They give you another opportunity to bring in fabric, which can help elevate a space. They can be mounted either within the window frame or on the outside of the frame. If you have nice window casings and would like to show them off then an inside mount will work well. If you don't have nice casings or want the window to appear larger you could use an outside mount.
Traditional Dining Room by San Francisco Interior Designers & Decorators Amoroso Design
Roman shades come in a few different styles. The most common is the flat roman blind. It is just a classic look. But sometimes we want something that is a little more relaxed looking and not quite so structured so a relaxed roman is good in this situation. These shades bow at the bottom and add a nice relaxed vibe to a room.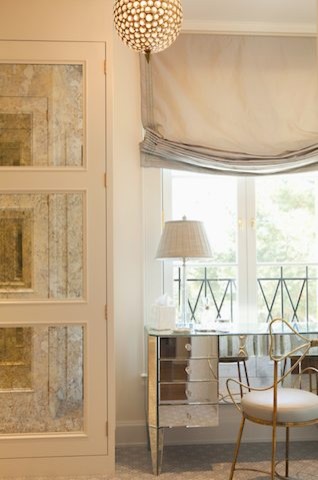 Then there is the Butterfly roman. This one has a bow in the middle but then also has fabric that is pulled up on each end. This blind is definitely more feminine.
As you can see there are many applications for Roman blinds. I personally love roman blinds and use them very often in my decorating and design work.
Let us know your thoughts. Do you like Romans? Have you used them before? What is your favourite kind?
Drop us a line and let's chat!